Chatham Mini-Pelagics
Close encounters of the pelagic kind aboard the "Kittiwake"
Are you tired of seeing seabirds only as distant specks at the horizon, or fighting for elbow room at the railing of a crowded 100-foot whale-watching boat? Does your stomach rebel at the thought of a three-foot swell? Have you never done a pelagic trip before because you're unsure how you may fare on an 8-10 hour trip? Then a "mini" pelagic trip off Chatham may be just what the pelagic doctor ordered! Why?
We only go when the weather is good — no need to worry about a rough ride. Your comfort and enjoyment are the top priorities.
We take a maximum of just 6 people, so there's plenty of room for everyone.
We chum with fresh fish guts, bringing the birds into point blank range — on some trips the birds are literally close enough to touch! The photo-ops are unsurpassed!
No depost required and no payment until we're safe and sound back at the dock. We trust you — if you sign up we trust you will show up!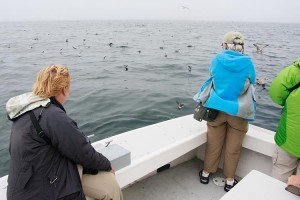 These four-hour trips depart the Chatham Fish Pier aboard the seaworthy 32-foot "Kittiwake" with Captain Kenny Eldredge at the helm, a native Cape Codder with decades of experience on the local waters. The cost is currently $100/person. For more information on the boat see the captain's web site.
The trips are run on an irregular basis from June — October. There is no schedule. We go on short notice (usually 3-4 days), when the Captain has an opening in his charter fishing schedule, when the weather looks favorable, and when we can round up at least five participants. If you're interested in a trip, get in touch through the contact form below and let us know a general time frame. We'll add you to our contact list and let you know when a trip is scheduled. If you have a group of 5-6 people and would like to schedule a trip, let us know.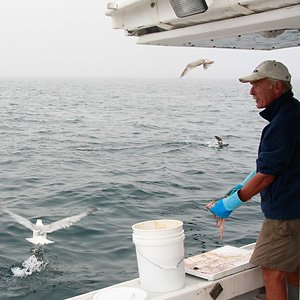 Where do we go? Well, that all depends on where the birds are, or at least where we think they may be. Seabirds are notoriously unpredictable: an area that's alive with birds one day can be almost vacant the next. But generally we head 5-10 miles east of Chatham, sometimes more to the south, sometimes more to the north. We also look for commercial fishing vessels, as they often have concentrations of birds in attendance. Some days we start seeing pelagic species as soon as we hit the open ocean (15-20 minutes from the dock!); other days we have to get a few miles offshore before the first seabirds appear.
What will we see? That, of course, depends on the season, but four species of shearwaters are likely: Sooty , Great , Manx , and Cory's . Northern Fulmar is possible late in the season (the majority of trips in October). Wilson's Storm-Petrels are often the most abundant species during the summer (June – August), but depart rather abruptly in early September. Northern Gannets are regular in small numbers during the summer and become common during the fall.
Jaegers are seen on most trips, with Parasitic being by far the most numerous, peaking from late August into October, when they frequently put on spectacular aerial displays chasing terns and small gulls.  We also see Long-tailed and Pomarine jaegers on occasion, and have found South Polar Skuas twice, though they are quite rare in these relatively inshore waters.
Small numbers of Red-necked Phalaropes often appear in August — September. Gulls, of course, are ubiquitous, with Herring and Great Black-backed predominating, though Laughing Gulls can be abundant during the late summer and fall.  Lesser Black-backed Gulls are regular, most numerous in the fall. A few Black-legged Kittiwakes appear in October, though the bulk arrive in November, after our season has ended. Twice we have seen Sabine's Gulls, once in July and once in late October, though in general they are most likely in late August — September. Common Terns have been seen on almost every trip and Roseate Terns can be numerous during the late summer.
A few non-breeding Common Loons are usually present during the summer and by September southbound migrants become numerous. And later in the fall strings of migrating scoters and eider can be a feature.
Although birds are our top priority, it's often hard to ignore the whales and other marine life inhabiting these waters. Three species of whales are regular. Humpbacks are the real crowd pleasers, with their variety of dramatic behaviors, and their feeding activities often attract concentrations of birds. Minke Whales are perhaps the most common, but smallest and least conspicuous, while Fin Whales are the largest, but the least often seen on these trips. We occasionally encounter pods of White-sided or Common dolphins, which often approach the boat looking to ride the wake, providing point-blank views. Gray Seals are numerous in the harbor and if the tide it low there can be hundreds hauled out on the bars as we head out and on our return. Although Great White Sharks have become a regular off the Chatham coast we have yet to encounter one on these trips (they're easier to find closer to shore) — but we'll keep looking!
A photo gallery of images from past trips is here. And a spreadsheet (pdf format) of the trip lists from the 2011 – 2014 seasons can be downloaded here.
These trips are organized and lead by Blair Nikula, a native Cape Codder with over four decades of seabirding experience. He has no financial interest in these trips; his only interest is in getting offshore to see (and photograph) some birds!
Peter Flood, another local birder with over two decades of seabirding experience, also occasionally leads or otherwise assists on these trips, as does Peter Trull, a veteran of over 2,000 whale watch trips!
For more information or to be added to the mailing list, fill in and submit the form below: